Clear aligner market shift and how can you get ahead of changes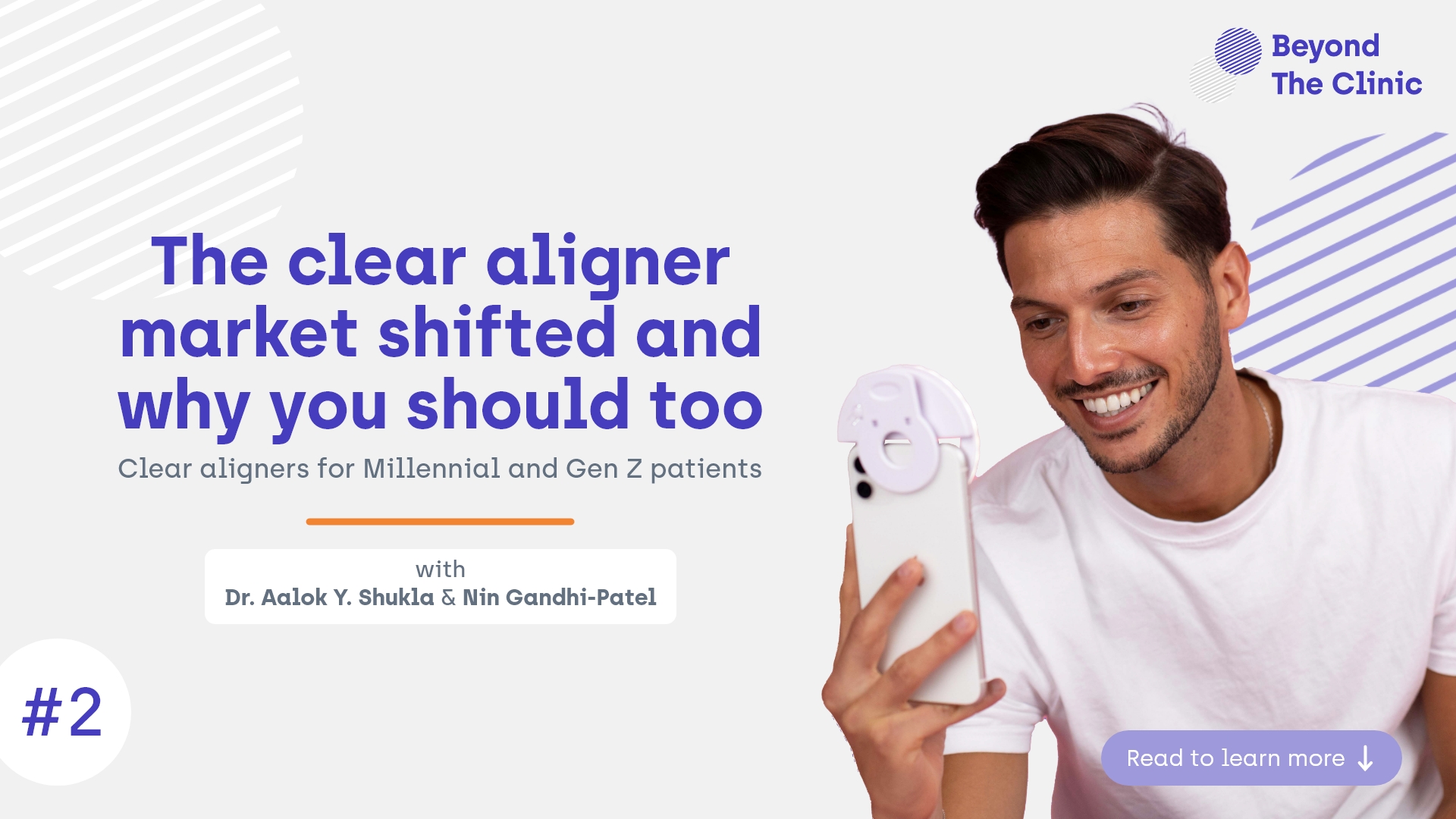 Key points:
A shift in the global market and target audience means aligners are now more accessible;

The younger generations should be your target groups (Millennials and Gen Z);

Technology as well as behavioural and biological factors are key in a successful marketing strategy;

In the UK only there are 50,000 to 80,000 people opting for orthodontic treatment yearly. This is a huge market that can still be tapped into with the right, modern approach;

Digital tools are here to stay and will help you build trust and a stronger connection with your patients.
The clear aligner market shift has made aligners more accessible
Observing the big aligner providers on the global market, such as Smile Direct Club & Impress, you will detect a shift in their marketing. This means their target audience has changed: Millennials and Gen Z.
This shift represents an opportunity for a lower entry point as aligners become more and more accessible. With this in mind, savvy local practices and smaller aligner providers will take note of what is happening and ride the tide to boost their success.
Embrace technology & generational factors in dentistry!
To really connect with the younger generations, we need to change with them and follow the same trends. For this target audience, technology is like an extension of who they are due to both behavioural and biological factors.
Behavioural

as they grew up with the internet;

Biological

as younger generations present us with much different dental needs.
What biological factors? Older generations, Gen X and Boomers, may have or need fillings, crowns or restorations. They grew up with a different attitude towards oral hygiene and dental care routines. However, the younger generations tend to book hygiene or whitening appointments, perhaps bonding, or require caries treatment (though cases are dropping!). 
For us as dentists, this means treating people based on their generation and tailoring our marketing strategies accordingly. Which treatments do we want to advertise, how are they marketed and where? Practices that don't embrace technology, social media and digital marketing as a whole are likely to feel a negative impact in the near future.
The demand for clear aligners is there, now it's time to supply
People are also used to digital online solutions for almost every aspect of daily life. This means they're seeing ads from big players like Smile Direct Club and Impress, with high prices they don't really want to pay. 
There are already 50,000 to 80,000 people opting for clear aligners yearly in the UK, many of them in fully remote treatment, but most of them would choose their local clinic with face-to-face appointments if the price was right. This is your chance to provide a solution: you already know there is a huge demand for a service you're able to provide! 
Here are the key points to keep in mind:
Take action and get ahead of the curve.

In 3 to 5 years it will be too late to compete in the market and effectively reach your target audience.

Communicate openly and provide answers to questions.

Be prepared with answers and solutions, collect the most frequently asked questions and display the answers around your clinic and online (website & social media) to be of most use to patients. 

Cutting out teeth straightening options means cutting down on profitability.

You may offer fixed braces, but that won't be profitable when everyone is looking for aligner treatment. Just like aligners, this trend is absolutely clear (pun intended).
Offer multiple aligner options.
Widen your range of teeth straightening options and market them accordingly. It's all about providing choices!
If you're wondering "Which teeth straightening options should I be offering and how?" keep reading! Let's take a look at the best options for your clinic.
Three types of teeth straightening – which options should you offer?
As dentists, our job is to make sure patients know which options are available to them and can make an informed decision on what is best for them and their smile. There are three main strata of teeth straightening that modern clinics should offer to cover all bases and provide the most value to their patients. Clear aligners may be used in each of them:
Comprehensive orthodontics:

essentially, creating a perfectly symmetrical and functional smile (without veneers). From invisible aligners to braces with elastics, IPR and cosmetic bonding, comprehensive orthodontic treatment represents the maximum possible aesthetic and functional rehabilitation. 

Cosmetic orthodontics:

aligning the teeth as much as possible and achieving a class one bite. The focus of this treatment is on aesthetics, while also minimising overjet and overbite, and getting the upper and lower centre lines to coincide. While not always essential, buttons and elastics can also be necessary for this treatment.

Faster results:

Some people want to improve their smile as quickly as possible. That's where six month smiles and similar treatment concepts come into play.
When presenting patients with different treatment options, explain the benefits and how they compare to each other with regard to the patient's specific situation. Make sure they understand how they can get the most out of orthodontic treatment.
Generally speaking, your chances of conversion will increase if you give people more than just two options and communicate confidently. If you offer clear aligners, there is a good chance 4 out of 10 patients will go ahead with treatment. The other six are usually deterred by the price tag and will look for cheaper options, but even then you should help them understand what they will be compromising on.
Clear aligner market target audience: how to expand to a new segment
Clear aligners tend to attract attention and get more patients through the door. This is where clinics often have "buy 1 get 1 free" deals, which might sound salesy and pushy, but experience shows: it works!
Dental clinics are businesses, after all, which means using effective marketing to spark up a very effective patient journey. Once a few patients are happy with their treatment, they will recommend you to friends and family, tag you on Instagram, leave reviews and more. This direct feedback and promotion will result in more cases, which, in turn, will bring back the revenue for the "buy 1 get 1 free" deals. 
Focus on the long term and include digital tools
If you try to make quick conversions and pressure patients to begin treatment, you will end up pushing them away. Smiles are deeply personal and orthodontic treatment isn't exactly cheap, so people need time and a safe environment to make up their mind. They need to feel supported and understood by you – after all, they're trusting you with their smile!
Once a patient expresses interest in a treatment option, present them with preventive long term focus treatment through systematic conversation. Using digital tools and treatment simulations, show them what results they can achieve. If you get comprehensive reports tailored specifically to them, you can forward them online and they can ask you case-specific questions at their own pace via a messaging platform. This hybrid approach reduces the need for in-clinic appointments and makes you approachable, further strengthening trust.
The key here is to stay patient to help reduce apprehensiveness through transparency. Technology will add that wow factor and differentiate you from other traditional practices. Think of it this way: the more information you can give your patient, and the clearer they can imagine their fully transformed smile, the better!
The digital shift: dentistry and the clear aligner market after COVID
Like in so many other areas of life and health, dentistry has now become more digital with fully remote or hybrid (part in-clinic and part at-home) treatment options. COVID and lockdowns played a significant role in promoting virtual consultations for dentistry and digitising patient experiences in-clinic: paper replaced by iPads, monthly progress monitoring replaced by online photo and video-based reviews, medical devices shipped directly to the patients' doorstep.
However, trust can't be built with a chatbot! The human factor is still essential throughout the entire process, and the virtual model comes with many advantages for both dentists and patients:
Screening and check-ups available from home to suit patients' schedules

No time wasted travelling to the clinic or sitting in waiting rooms

Faster support in case of questions without the need for an appointment

Reduced chair and more flexibility time for dentists

More time for additional patients or cases in need of urgent in-clinic appointments

Extra revenue through additional cases
With the new possibilities through the addition of digital dentistry, we are now able to present more treatment options to more patients, making dentistry more accessible and interesting for patients than ever before.