How to increase clear aligner opportunities: Stop losing patients!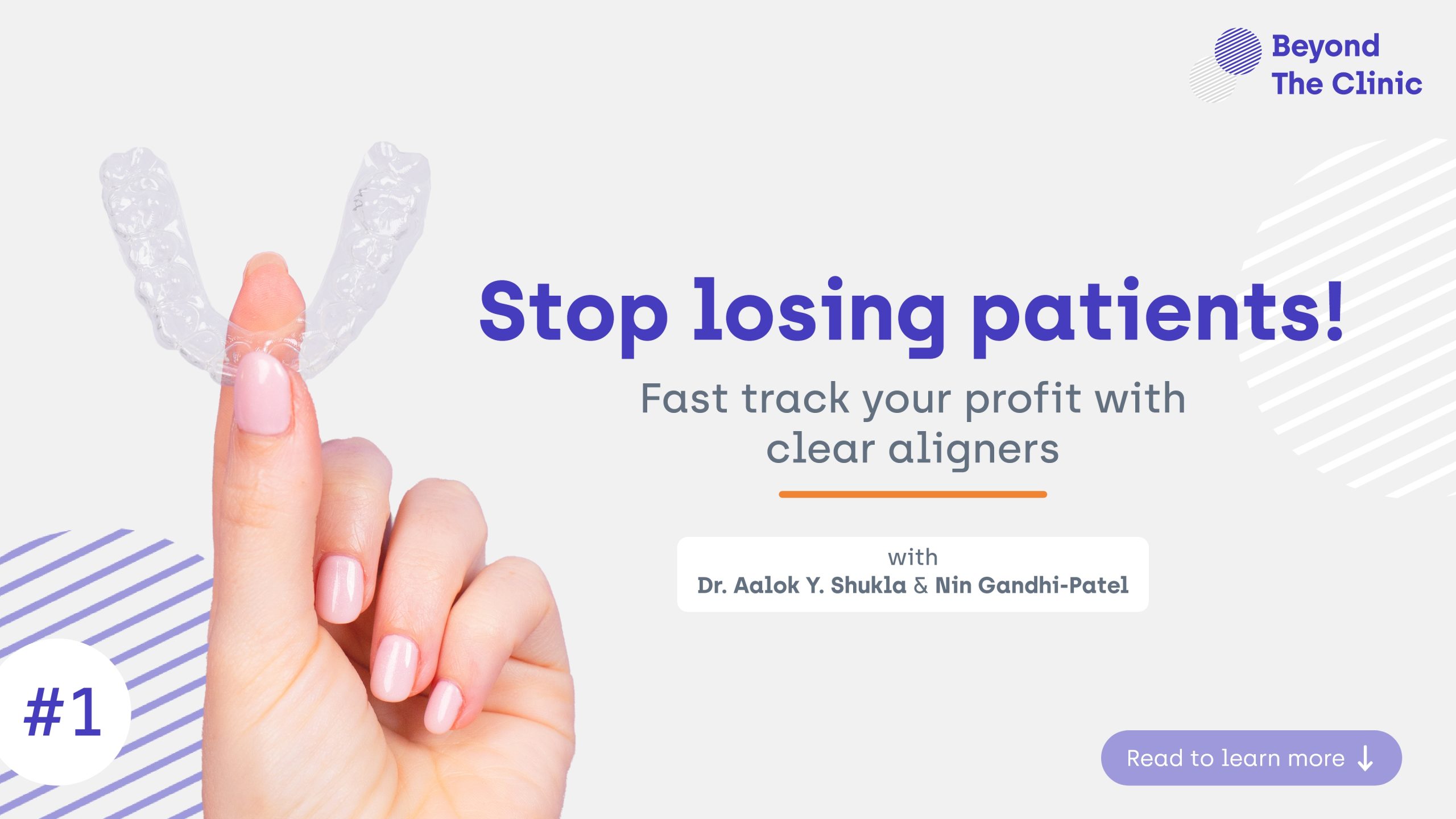 In order to help you build a more sustainable dental business, Aalok Shukla (co-founder and CEO of Uplift Health) and special guest Nin Gandhi-Patel (Dental Practice Growth Expert) sat down for an in-depth dentistry conversation on how to increase clear aligner opportunities and unlock another 50 clear aligner cases with no extra marketing spend.
How should you introduce your patients to clear aligners?

How to effectively communicate with your patients?

And how can you promote clear aligners?
How to market clear aligners to sell to your existing patients
During his 15 years of experience, Nin has found a recurring issue…there's a great lack of active promotions and clear marketing strategies. With practices relying heavily on organic promotion – such as posters in the waiting area – it is virtually impossible to unlock another 50 clear aligner cases among existing patients.
What if you used marketing to sell your service to existing clients?
The clear aligner opportunities quite literally sitting in your waiting room are the dentistry equivalent of a goldmine. The best way to increase aligner treatments and optimise your dental chair time without much effort is to address your existing client base. Many patients would be interested in improving their smile but haven't asked the right questions.
Here's a marketing promotion for clear aligners to get you started:
Host an opening event for two or three days and invite your client base via email.

Create awareness around your practice and the services you offer!

Educate your patients on how aligner treatment complements and enhances dental health.
By tapping into your existing client base and helping them understand how aligner treatment will benefit them personally, you'll be surprised by how many clear aligner opportunities you have been missing so far.
Patients think about their teeth twice a year…or when looking at pictures
Let's face it: apart from daily brushing, most people forget about their teeth unless they are in pain or have an upcoming dentist appointment. These appointments are also seen as chore-like routine visits for things like dental hygiene or fillings. Most eligible patients don't actively consider teeth straightening because they believe it would be too expensive or time consuming. They don't look into the option further, so the conversation never takes place.
How do I start the conversation to create
clear aligner opportunitie
s?
Be confident:

You're the expert. Help your patients understand how and why teeth straightening could benefit their dental health.

Educate:

Give your patients all the available options, details and make them feel understood. This allows them to form a clear vision of the possibilities. 

Forget old strategies:

Procedures like expensive, painful fixed braces, are often the reason people have a negative image of teeth straightening. Provide your modern, clear alternative and if they don't want it, that's fine. At least they have a choice!

Just start

– You surely have many patients already interested in aligners. If you don't show them their options, they will find another provider who is more proactive.
The average dental practice has 1500 to 2000 patients. When you start using the right systems, processes and conversations, and promote your business with confidence, you will spark growth and clear aligner opportunities. 
How can you unlock 50 aligner cases?
Everything is easier when it's broken down, so here are three keywords to help you navigate your way to increasing clear aligner opportunities: Mindset, Action, Community.
Mindset:

We've all heard "think big", but it's often enough to just "think bigger" than you are now. Start aiming at higher numbers: 10, 15, 20 aligner cases per month are realistic, attainable, and make a big difference. If you currently have 2 cases a month, that's a 500-1000% increase!
Action:

You have a client base already. Whether small or large, all you need to do is tap into it. Strike up those conversations, take action and set up the right marketing strategy. Focus on reaching an average of 20 cases per month first. After that, turning it into 40 is easy.

Community:

Happy aligner patients are the best advertisement, as they can refer friends and family. Share patient success stories online via social media, grow your community and aligner cases from 20 a month to your next milestone, and help more patients improve their oral health.
Help your patients understand the implications of not straightening their teeth
A friendly but straight conversation is the best place to start. Perhaps your patients are already unhappy with the position of their teeth, or maybe they aren't particularly bothered. In either case, help them understand that the misalignment will worsen over time and which implications would follow for their smile and oral health.
Make it easy to understand with practical examples.
The longer you put off treating any medical condition, the more complex the treatment will be. Teeth are no different. Tooth wear, for instance, can be caused by malocclusion. Over time, the asymmetrical wear will worsen, making future teeth straightening more complex. Dental hygiene is another example: crowded teeth can be harder to clean, potentially promoting gum disease, another dental issue that does not solve itself.
Three main
clear aligner opportunities
you might be missing right now!
These three issues are very easy to solve, require no extra marketing spend and are guaranteed to help you unlock clear aligner opportunities:
Incomplete website

– No clear information on your website? People won't find what they're looking for and will move on quicker than you can say "aligners".

Generic email response

– If prospective patients inquire about clear aligner treatment and receive a generic or automated response, they won't feel valued or understood and will take their money elsewhere. 

Lacking patient support

–

Unfortunately, just presenting treatment options or a plan often isn't enough. Make sure to educate and thoroughly discuss things with patients. If they see that you are invested, they are more likely to be, too!
Most (less proactive) dentists or associates will think the aligner cases just aren't out there, when in reality they just aren't given the right incentives to choose your practice. Address the above three issues and you will notice the difference.
The 30/40 aligner cases model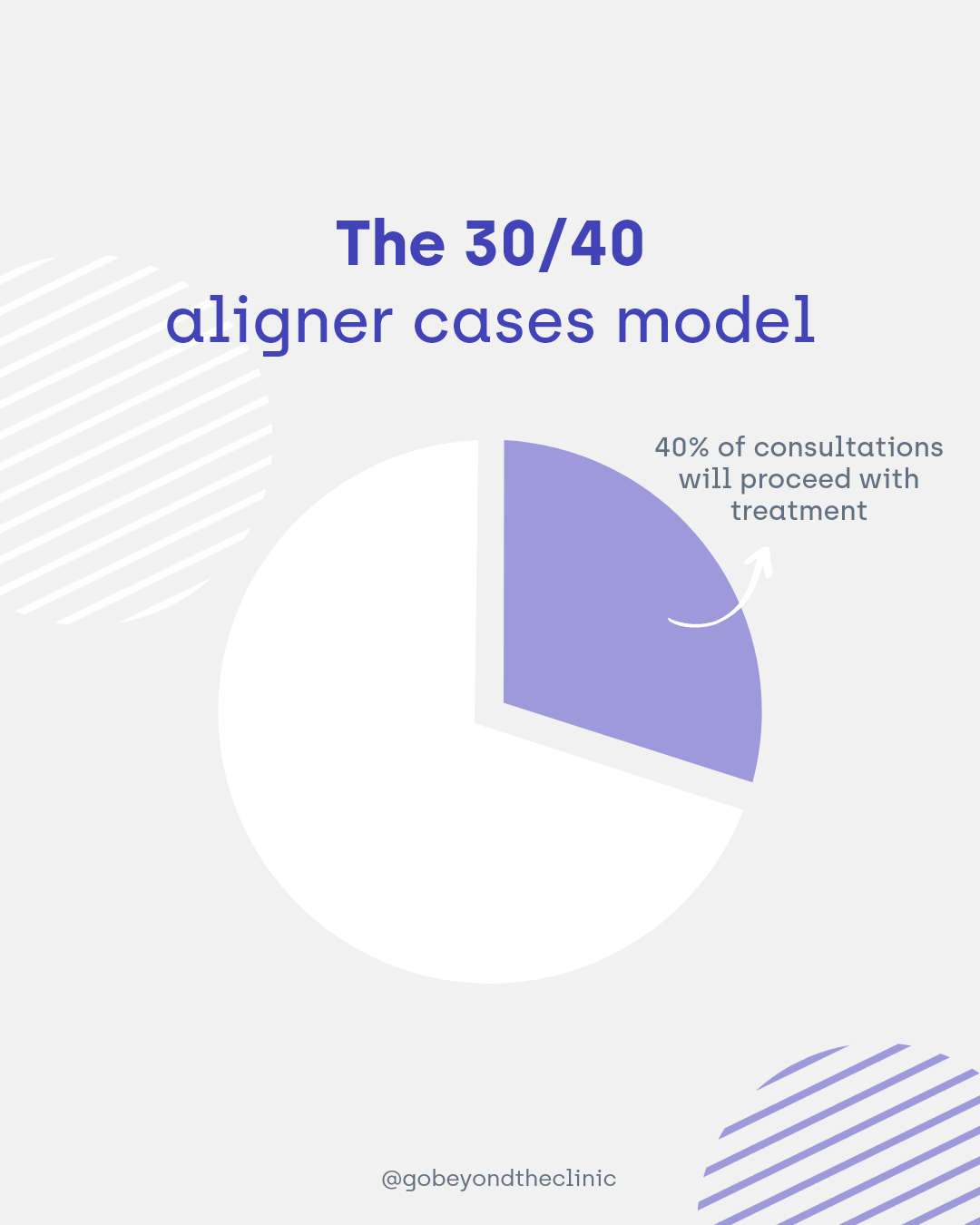 Good marketing strategies result in treatment inquiries, but the work doesn't end there. The 30/40 rule is useful to help you recognise overall success: 30% of all inquiries will result in a consultation, and 40% of consultations will move on to treatment. Any less, and you will know that your model needs optimising. Any more, great! Just remember to follow this proportion.
Ready to level up your clinic? Join the Go Beyond the Clinic 60-day Program completely free of charge (worth £600). Kick start your clear aligner opportunities with this step by step system will teach you how to fast track aligner profits without spending more time in the clinic or hiring more staff.