5 ways to effectively promote clear aligners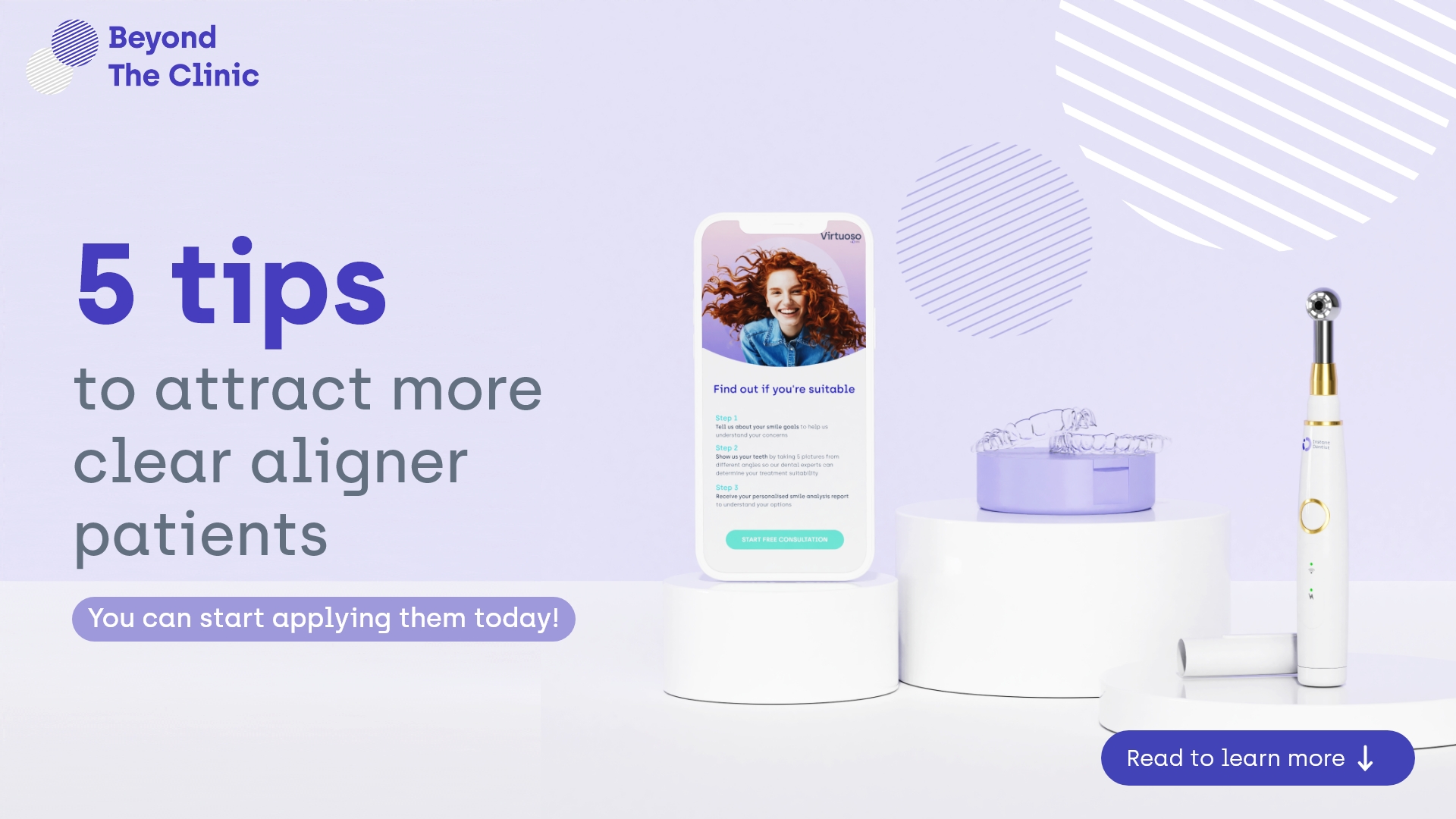 Key points
Emphasise the importance of straight teeth for optimal and long-lasting oral health.

Create confidence in your patients by having team members use clear aligners.

Promote effectively inside your clinic by using posters and video animations.

Promote clear aligners as affordable & accessible with no hidden sketchy wording.

Build a digital presence for yourself and use it to communicate with your clients.
Now, let's take a look at how you can implement these steps in day-to-day clinic life!
Educate your patients
There's more to teeth straightening than the aesthetic aspect. Most people just want a harmonious smile, but straight teeth play an important role in overall dental health: they facilitate optimal gum health, enable proper flossing, and reduce tooth wear. As dentists, we are aware of the health benefits, and it's up to us to educate our patients in this regard. 
Here's what you can do: communicate the desired result of a healthy smile throughout your clinic, so that your patients see and understand what their ideal goal should be (optimal oral health!). Clear aligners are the secondary focus, offered as an affordable and accessible means to an end. Help your patients recognise how the two are connected, to ensure they understand that it's a meaningful investment in more ways than just aesthetics.
Promote clear aligners by having your team members wear them
This is one of the most important touch points of all. Why should your patients trust a product that you and your team aren't seen using yourselves, or if there aren't any success stories from other patients to read up on?
Here's what you can do: display successful treatment cases from within your clinic or have team members undergo treatment themselves. This is a great way to build confidence in the effectiveness of clear aligners. It also allows patients to speak to your team members at eye-level about their own treatment experiences, without feeling like they're in the middle of a sales pitch.
Posters and video animations displayed on screens around your clinic
The word "advertising" usually brings to mind paid adverts such as Facebook, Instagram or Google Ads, billboards, flyer deliveries, etc. However, we tend to forget the cheapest and most obvious advertising space: our own clinics!
Here's what you can do: use posters and video animations on screens with before and after images. Take it a step further by providing timelines for smile transformation examples. These are both helpful and entertaining for patients in your waiting area! Although primarily targeted at already existing patients, this is the best place to educate people on teeth straightening with clear aligners and spark their interest.
Show patients that clear aligners can be affordable and accessible
Teeth straightening has always been notoriously expensive and complicated. A quick Google search of teeth straightening options will underline this. That's why the affordability and simplicity of clear aligner treatment will surprise many of your patients!
Here's what you can do: make sure to provide clear information on pricing, treatment duration and the included services. Emphasise the differences in price and duration compared to other teeth straightening procedures, while reassuring patients that they will still receive professional treatment, custom aligners and even easier (hybrid) monitoring to reliably track their progress. After realising that clear aligners are delivered at a price they can afford, with results in only 6-10 months, many patients realise their dream smiles are accessible after all.
Promote clear aligners by communicating with your future patients digitally
Clear communication and the right approach are crucial for all 4 above mentioned steps. With so many daily tasks achievable through smartphones, why not follow this trend and take your communication online? It's not so much futuristic as it is simply moving with the times.
Here's what you can do: make it as easy as possible for your clients to reach out for information and get answers to questions. Identify your target audience for online interactions and ensure you communicate effectively through your social media channels, website and emails in a tone of voice that will appeal to them! Best of all? This omnichannel experience is entirely free to set up across all platforms and will increase your reach in the blink of an eye.
Follow these 5 steps, and you'll be well on your way to winning new clear aligner patients!
However, this is only the tip of the iceberg when it comes to running a successful practice. If you really want to scale your dental practice, make sure to grant a spot on our 60-day program, no strings attached!