Digital patient journey: Your most powerful secret weapon!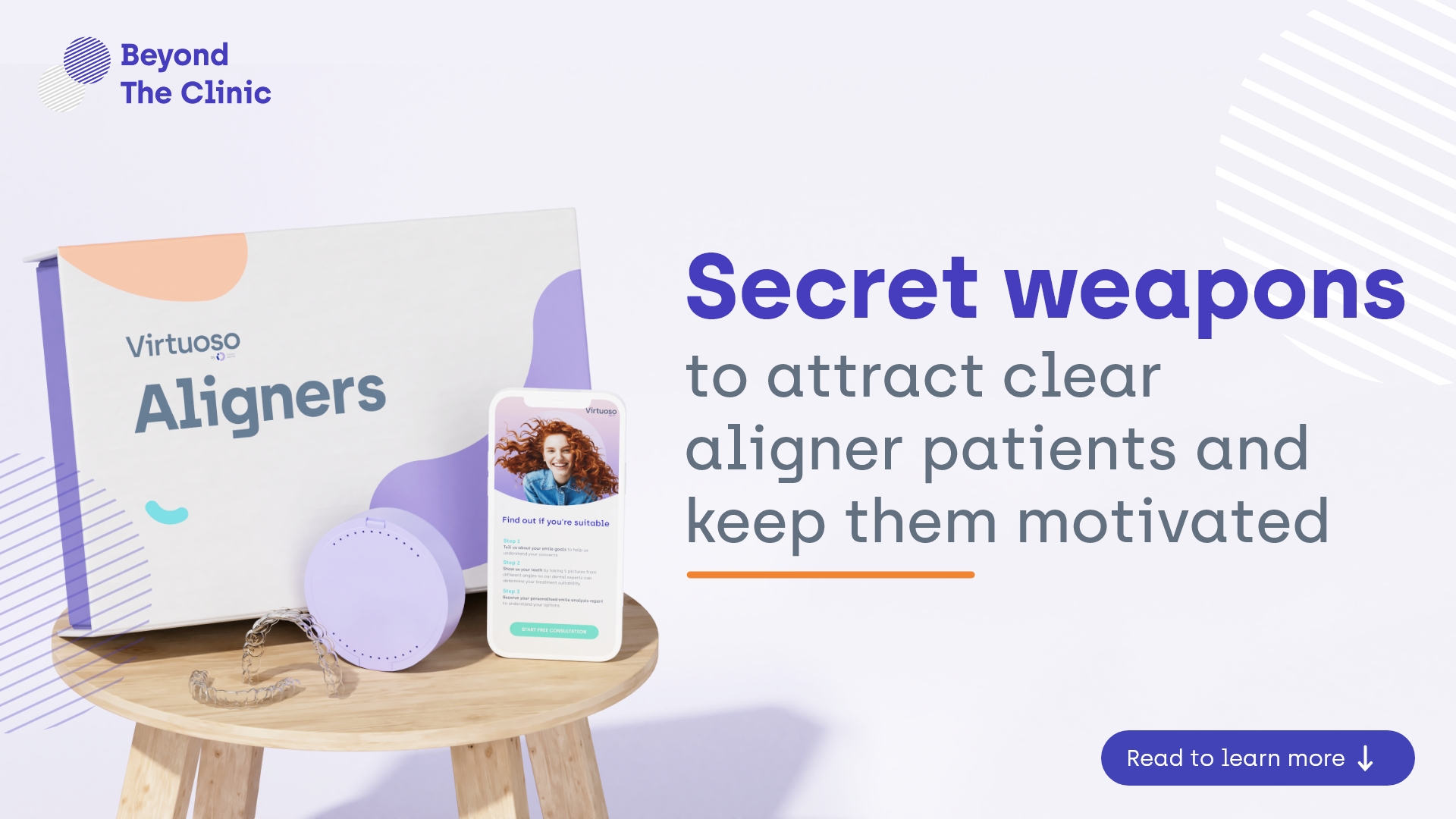 The goal of a successful dentist is to diagnose and treat patients to the best of their ability. The goal of a successful practice is to do that for as many patients as possible.
The more patients you engage, diagnose & communicate with daily, the more treatments, prevention, and healthcare you will deliver.
A digital patient journey accompanies the patient from the moment they meet you until they finish their treatment with you.
By implementing this method in 2012, we doubled our practice volume within 2.5 years. By 2016, we had successfully turned our previous annual total into our monthly norm.
There are a few ways of driving consultations and starting a digital patient journey, such as: posters; emails; videos; around the clinic visual cues; qr codes; etc.
With digital screening, you can safely review photographs and videos with the goal of engaging with your patients. There is no need for video calls and all this is done through a secure app.
What is a digital patient journey & what can it do for you?
Simply put, a digital patient journey is the digital expansion of a normal patient journey: from the moment they acknowledge your clinic until they become brand advocates or finish their businesses with you, you maintain digital contact. A digital patient journey can start on your website, email signature, any link given, even a poster or QR code!Someone's digital journey to your practice could begin anywhere, and it can benefit you in several ways.
What will a digital patient journey do for you?
Ensure better educated and more engaged patients;
Differentiate your practice with convenience and technology;
Make your practice more appealing to potential new patients;
Attract and engage aligner patients;
Get paid faster with digital payments;
Double your aligner practice with the right digital marketing systems.
A digital patient journey DOES NOT mean replacing physical visits. It can act as an enhancement & extension instead. You will still:
Perform physical dental exams & X-rays;
Physically 3D scan teeth to capture a digital impression;
Hand any dental appliances to the patient.
To sum up, you will be creating additional engagement before & after visits!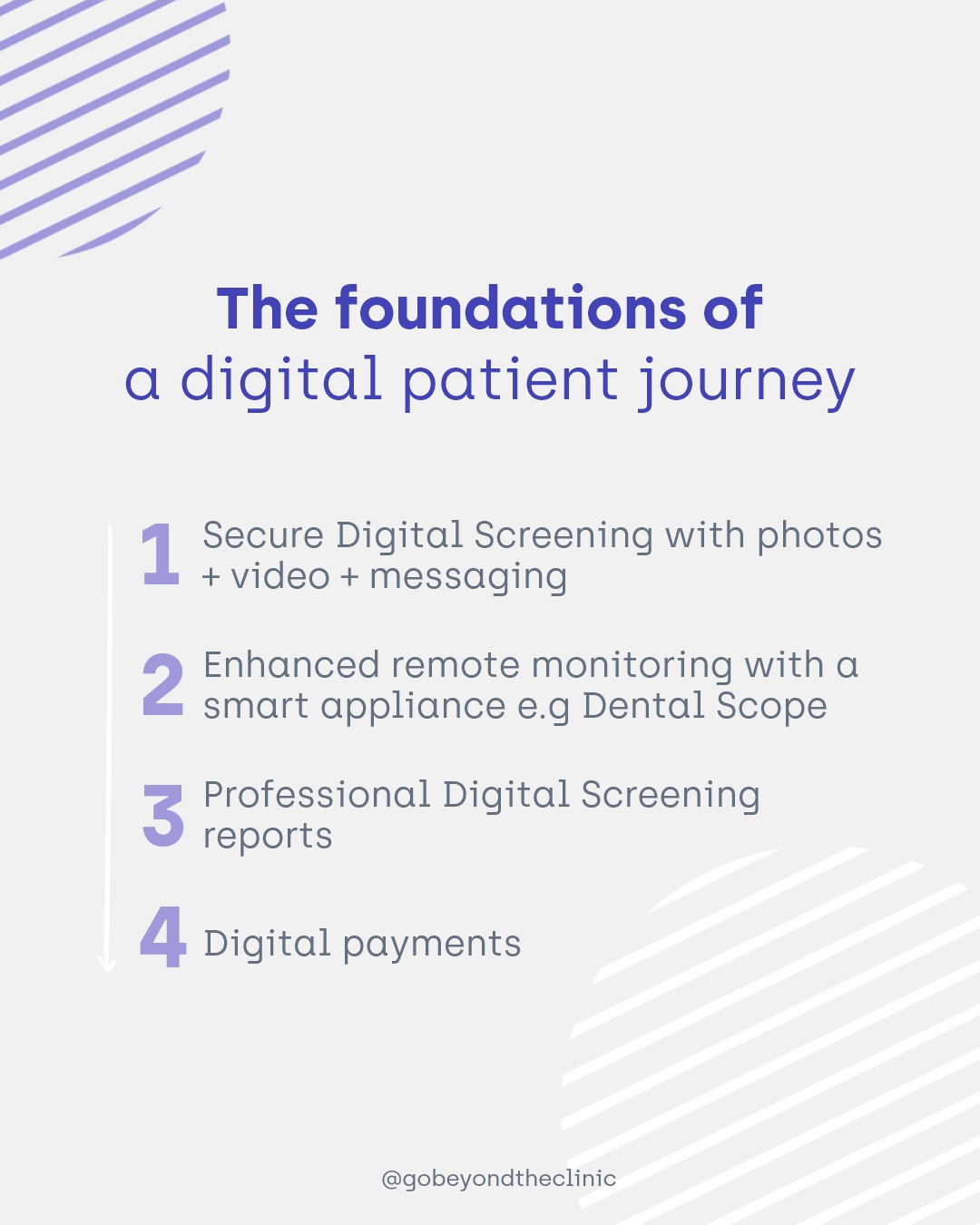 The above 4 pillars form the foundation of a digital patient journey.
Our pro tip on how to keep your patients engaged
The more digital roads you create online and offline, the better your digital patient journey will work. It will attract more patients for you to engage with on a daily basis,and if you communicate effectively,you can expect situations like this:
Patients welcome direct, efficient, informative contact and will be glad to answer you or even make time for in-clinic appointments when they usually might avoid them .
In our advanced courses, you will learn everything you need to implement these techniques yourself! You can find them by clicking HERE.
Are patients willing to be part of this in dentistry?
The short answer: yes! During all our years in the business, we have helped over 6,000 patients digitally, which has shown us how willing patients are to be part of a technology-focused experience.
Here is a great article by HubSpot, which further explains how a digital patient journey can help you get the most out of your business. Get into the consumer's mindset, help them discover you, and communicate digitally to take full advantage of modern technology.
What is Dental Digital Screening?
Digital Screening is the professional procedure of safely reviewing photographs and videos submitted by patients to identify potential risk factors with the goal of engaging with a patient. All this is done without the need for video calls.
What is needed for a safe digital screening?
Unique consultation link that can be embedded anywhere;

Secure patient & dentist portal where messages, photos, and reports can be submitted, stored and reviewed.
Video calls, whatsapp or email communication can be helpful occasionally, but when it comes to patient management in larger numbers, these older digital methods are neither scalable nor secure for ongoing care.
How to implement a successful digital patient journey - Our Secret Weapons
Secret weapon #1 - Digital Dental Consultation
You may have even tried this already! Online forms or softwares are frequently used, but if you don't implement digital consultations as part of an end to end journey, then these forms and softwares won't end up adding anything to your business and clients.
Using the right tools, systems and a few tricks, you can increase your monthly aligner inquiries tenfold. Our course includes a tried and tested system, which guides the patient and also unlocks additional opportunities for your clinic. To learn more, click the course link below!
Secret weapon #2 - Digital Dental Reports
Building trust digitally without video calls means giving patients the right type and amount of information. At the same time, you want to avoid confusing them. Providing each patient with all the essential information relevant to their case can therefore be time consuming, but here's our secret: using digital reports.
Specially designed digital reports are similar to templates that you can easily fill with individual treatment information. Best of all, they are a scalable and professional way to communicate with patients, especially if they are pressing you to respond as quickly as possible. Digital reports are an ideal way to meet their needs while still providing the best quality service.
Here's an example of what a professionally designed digital report might look like: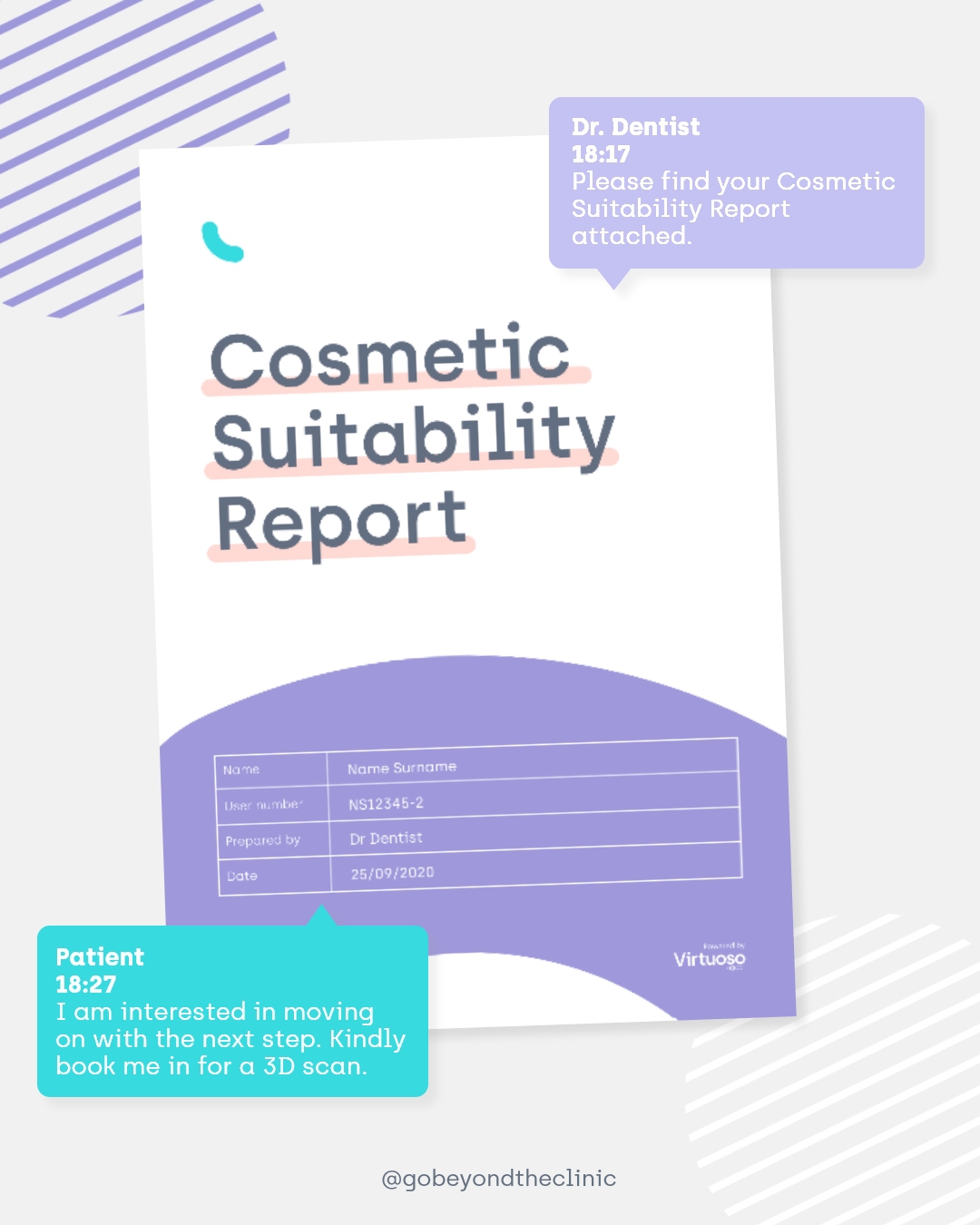 With the right approach, we've seen patients respond positively within only 10 minutes of receiving their report,with a great percentage of them wanting to proceed with treatment and/or next visits.
 On top of that, digital reports truly are a key part in patient screening and professional interaction. They can (and should!) be accompanied with a friendly message to help build a relationship and create reassurance. What impact would it have on your practice if patients felt comfortable enough to reach out via message and go ahead with treatment?
What should a digital report include? We're glad you asked!
We cover everything you need to create your own professional digital reports in our course, but here are some important points that should always be covered:
Establish baseline health; 

Highlight key risk factors;

Show the consequences of no treatment for each individual case;

Clearly expose the current situation and explain the next steps.
In this course, you will receive all the tools you need to engage more patients faster and before they even step foot in your clinic! By implementing tried and tested strategies, the digital patient journey  will help you build more trust, resulting in more engaged and motivated patients.