Patient communication: how to communicate the different options to all kinds of patients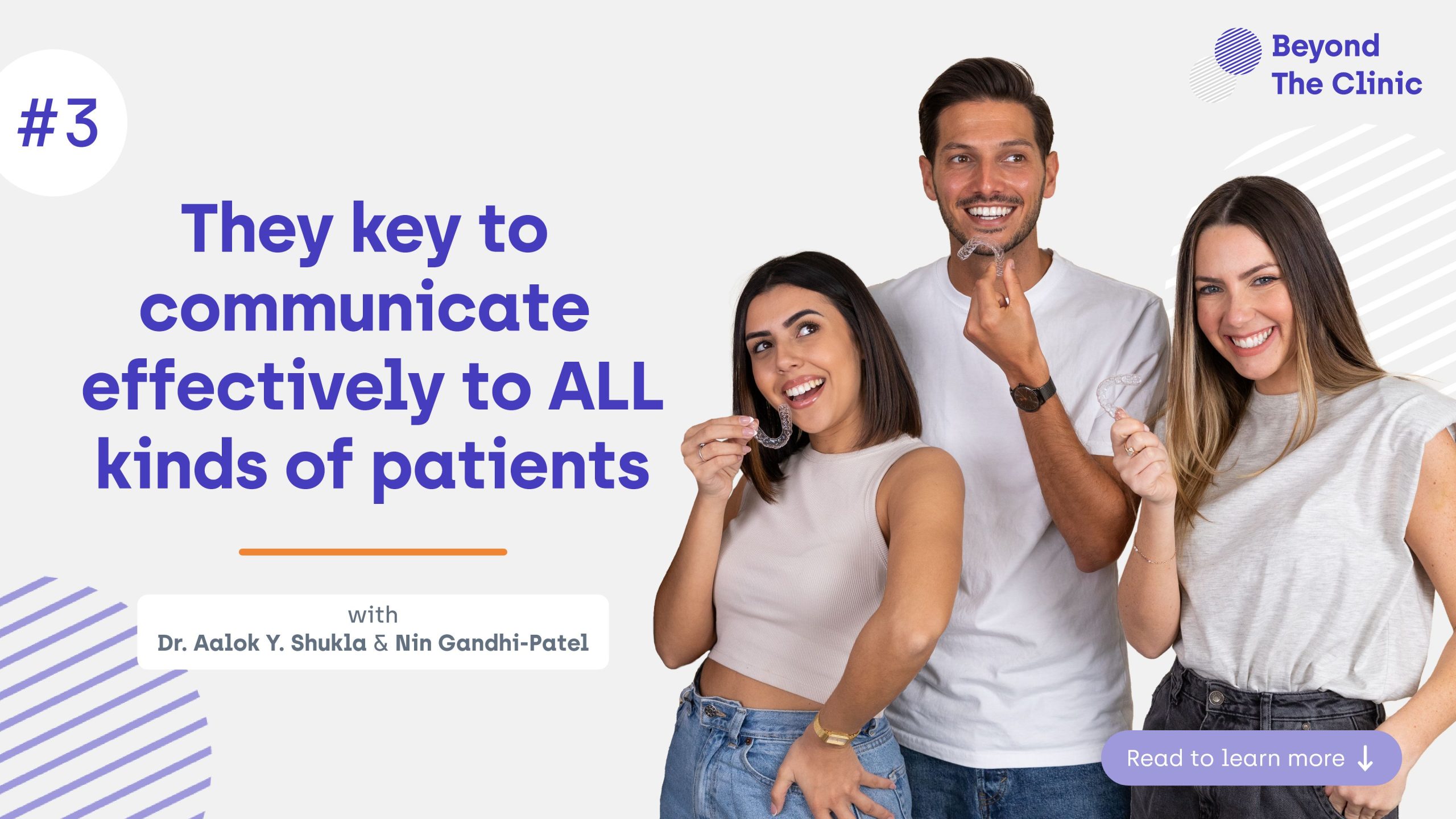 Key points:
Patient communication

starts with something as little as an email reply. If this is unfriendly and lacks helpful information, people will turn away without a second thought.

Although not all prospective patients will convert to clients, part of your job is to market your clinic effectively to as many of them as possible.

Technology and templates can be used in dentistry to facilitate effective communication.

All communication and advice to patients should aim to be clear, direct, and honest.

Sales and communication are like a muscle that you can train. Practice makes progress. 

Offering several treatment options at different price points will tell your patients that you care about all their needs, not just those who can afford the most expensive option.
What about dental patients that don't even come in?
Some prospective aligner patients from outside your existing patient pool may get in touch via email or social media DMs, but that doesn't mean they are inherently any less valuable than a walk-in inquiry. Let's look at an example: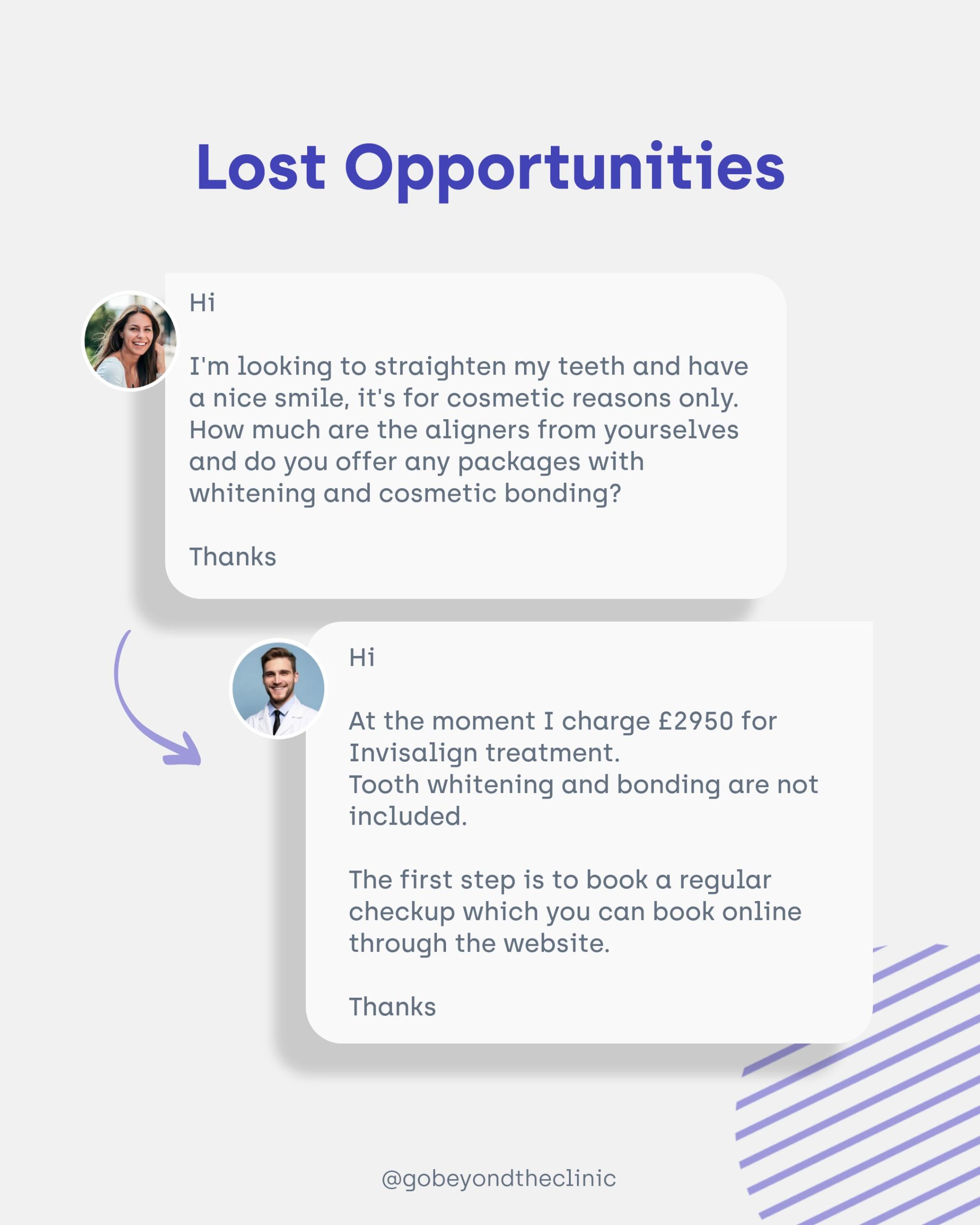 This is quite a standard email from someone genuinely interested; unfortunately, the monotonous response is also widespread. After a response like this, it's no surprise that these opportunities don't convert. Would you be happy with a response like this?
Luckily, the situation is easily improved by simply listing the options available for this inquiry in a friendly way: "Thanks for getting in touch! We have a few different options you might be interested in. These are…". With next to no extra effort, the reply already feels more genuine and less robotic.
Of course, most replies to inquiries will sound very similar, and manually carrying out repetitive tasks is not scalable. This is where we can use technology to our advantage. The above example is a classic case of a lack of systems and processes. As monotonous as this topic may sound, it actually enables more personalised interactions than the one shown above.
Why use technology and templates for patient communication? Three reasons:
Consistent messaging;

Giving the patient the right response;

Minimising the repetitive tasks for your team.
To successfully run your clinic, you have a set of systems and processes that all employees know, respect and carry out. Digital patient interactions should be no different. 
Start by finding out what the most common inquiries are about, and create template answers for each topic. These templates can easily and quickly be adapted to address all the patient's questions. Often, the template alone will do the trick. This way, your messaging tone and information will be consistent.
Creating systems for these interactions is a small effort in the grand scheme of things. Remember, you only have one shot at showing prospective patients that your clinic is right for them. Bad email replies and unprofessional websites have the same effect as a rude receptionist or untidy facility: they scare people off. 
How to address clear aligners price inquiries?
Effective correspondence can double the opportunity of winning new patients. The key points to remember when answering aligner price inquiries are:
Specific and clear information

Direct and concise wording

Honest and friendly tone
Also, always mention any treatment packages you have that would suit the patient's needs. People like to be given choices because it shows that you took the time to inform them properly and that you have their best interest at heart. List the options clearly and include a short sentence with relevant information, such as "This package includes X and Y to help you achieve Z for an all-inclusive price of £ / for £ – £, depending on your individual requirements."
Make sure your initial reply states that any treatment will require a prior clinical assessment to find what is most suitable for them. Luckily, this can often be done remotely. Include links to digital checkups or digital screening to facilitate this step and highlight that there is "no need for video calls or physical appointments" to increase engagement among motivated patients.
Do you feel stuck communicating as a dentist?
Sales and patient communication are learnable skills. If you ever feel stuck or worried about losing patients, remember that success is not linear and that you weren't born a fully-fledged dentist. You worked hard and consistently to begin achieving your goals, and the same goes for improving patient communication for increased aligner cases. 
Practice makes progress. Be willing to try new methods and approach patients in new ways to find what works for your clinic. An easy place to start is our 3-step process of engagement in email communication…
3-step process to get engaged, clear aligner patients
It is important to follow these steps in their correct order since this is part of a structured sales strategy.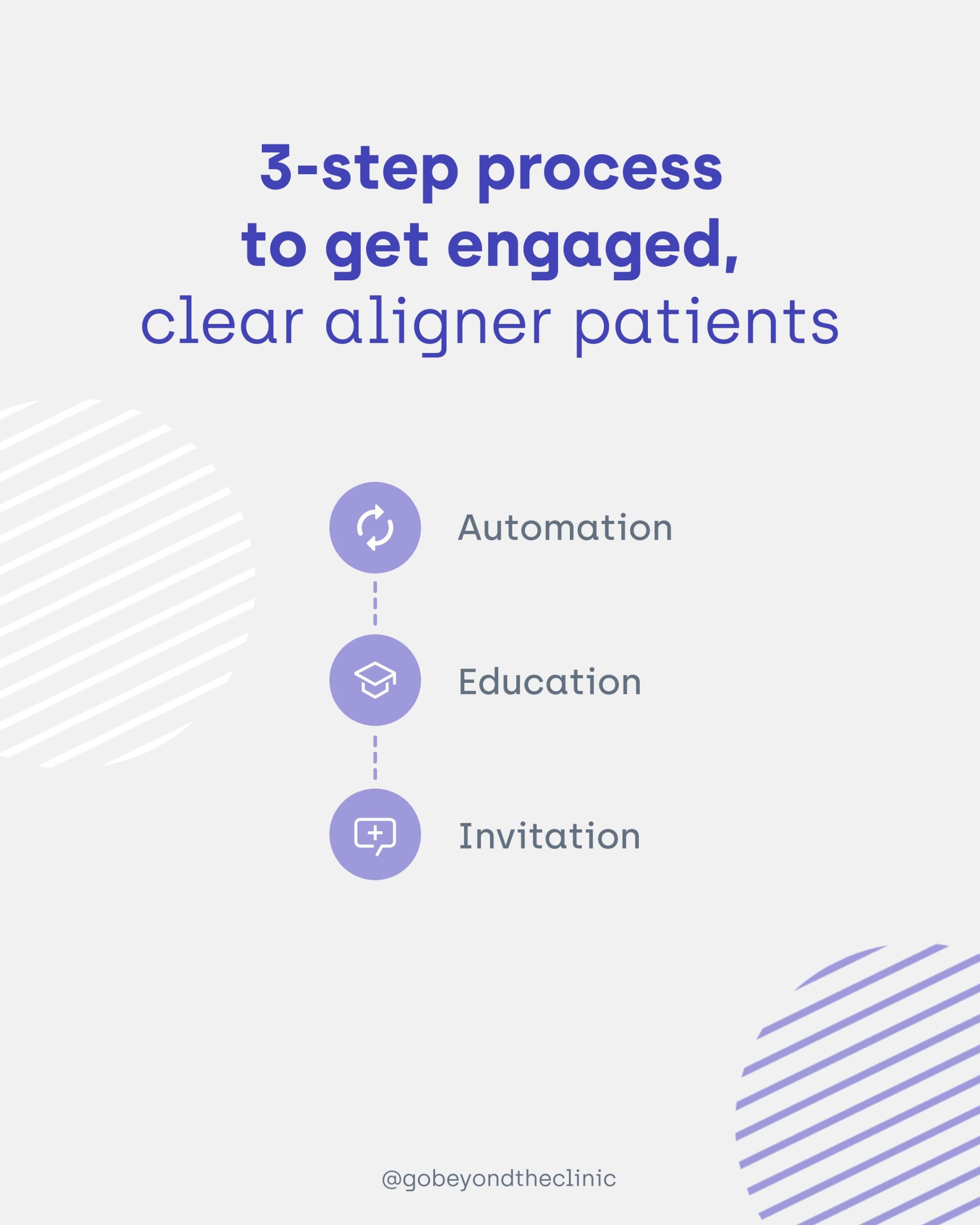 Automation:

In the email example above, we can immediately tell that the dentist responded manually and that they spent almost no time formulating the reply. As a result, the tone is monotonous, cold, and even robotic. Automated responses, on the other hand, can be nicely worded in your clinic's friendly tone of voice, such as "Our most popular option is…", "We have a few options that would suit your needs, including clear aligners…", or "Prices start at £, but we'd like to book you in for a free clinical assessment to confirm the cost in your individual case."

Education:

Take extra care with your choice of words and information. In the example above, "I charge" sounds very harsh, almost like "I will take your money away". Here's a better example: "We have a digital scanner and will show you your predicted smile transformation before you commit. Based on this, we can then give you an accurate price for the whole process."

Invitation:

Make it easy for patients to move through the first phase with a call to action button like "Please click here to book your free smile assessment" or "click here for x"
Why offer both standard and premium orthodontic options?
Take a look at the following example:
Why do reputable airlines offer economy, business, first class (and more)? Because customers all have different wants and needs. Even low-cost airlines have options: more legroom, priority boarding and additional hand luggage. 
In any business, offering a single premium (expensive) service without a standard (more affordable) option will scare away many customers who only want the basic fare – in our case, simply straighter teeth. Of course, some patients will be looking for a complete smile makeover, with aligner treatment, cosmetic bonding and teeth whitening. These scalable service packages and treatment options are what will attract more patients to your clinic.
Clear aligners and teeth straightening for everyone's needs
So, you want to start offering several treatment options at different price points. Now you need to let your patients know that you have services to suit all their needs. 
One way we found very useful was to have posters around the clinic for people to read while they wait for their appointment. This allows patients to inform themselves as to both options, without you feeling the need to bring them up in conversation:
Premium option:

costs more than the standard treatment, but patients receive add-ons as well as their desired straightening result, such as teeth whitening, teeth bonding, teeth contouring, aligner accessories, etc.

Standard:

costs less than premium treatment, but patients still receive the desired teeth straightening results.

Standard + optional add-ons:

this is a personalisable package solution for patients who want one or more of the premium services while keeping treatment more affordable.
As you now know, effective conversations with your patients can be a gold mine. There are several ways to begin improving patient communication, as well as modern answers to questions like What if I don't have the time to sit down and talk with patients? What if I don't have the necessary digital tools to tackle this? How can I begin scaling these conversations?
Are you ready to implement these strategies? Start NOW with 50 free aligner treatment plans for the whole of 2023. Including 3D simulations for the whole of 2023 & a Free digital launch pack to engage your team and help you grow. That's over £2,500 in savings!