Start new aligner cases from within your practice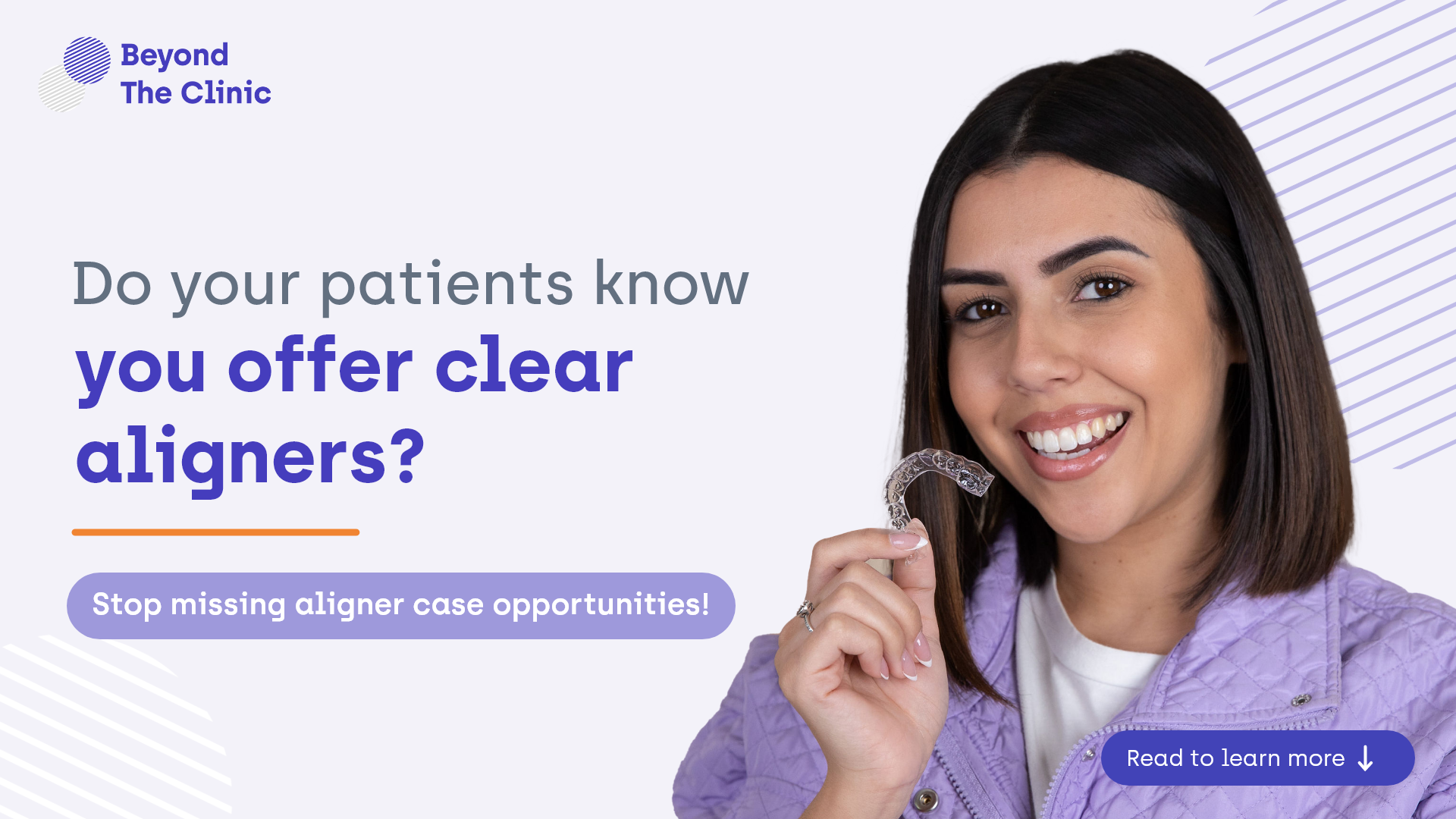 Increase the number of new aligner cases by looking into your existing dental patients.

There are at least 5 different types of patients; keep reading to find out who they are.

Patients with crowded teeth are at a higher risk for gum disease and tooth wear. It is essential to present teeth straightening options as a preventive dental health procedure in addition to it being a cosmetic treatment. 

Just like implants are almost standard procedure when someone is missing a tooth, you should recommend teeth straightening and clear aligners for crowded teeth.

Focus on your patients' needs and always communicate simply and clearly.
What teeth straightening options do you offer? Make sure your patients know!
Many adults have thought about straightening their teeth, but with quotes of up to £3000-£4000, teeth straightening is notoriously unaffordable. This scares off many dental patients, to the point where they don't even enquire about more affordable aligners options like Virtuoso clear aligners. If patients never express their interest in potential solutions to their crowded teeth, it's only natural that you, as their dentist, feel unsure about bringing it up.
Address your patients' dental issues
Your job as a dentist is to diagnose and educate patients on their oral health condition. The patient's role, on the other hand, should be to ask you questions and really understand the information you provide. Instead of directly recommending clear aligners, your patients need to understand the implications of the no-treatment route.
Whether crowded or spaced, misaligned teeth are generally prone to getting worse or wearing in certain places, creating more tooth damage in the long run if not tackled properly. Treatment also becomes more difficult as time goes by, so presenting teeth straightening as a preventive measure is extremely important. Once your patients understand this, they will feel more comfortable enquiring about your options. This may take two or three conversations, but you can then recommend invisible aligners as an affordable and effective solution.
The 5 types of dental patients
Now that you know what the best way to promote clear aligners to your patients is, let's talk about the 5 different groups of dental patients:
Patients attending checkup appointments;

Patients attending hygiene appointments;

Email enquiries on teeth straightening from people who haven't visited you physically;

Inactive patients;

Patients who have received treatment plans for straightening but didn't go ahead.
Let's discuss them in detail.
Patients attending checkup & hygiene appointments
The patient here is already being proactive. They are attending a dental appointment to check and improve their overall dental health. By simply taking a few photos of the patient's teeth, you can easily show them any present or future risk factors associated with the position of their teeth.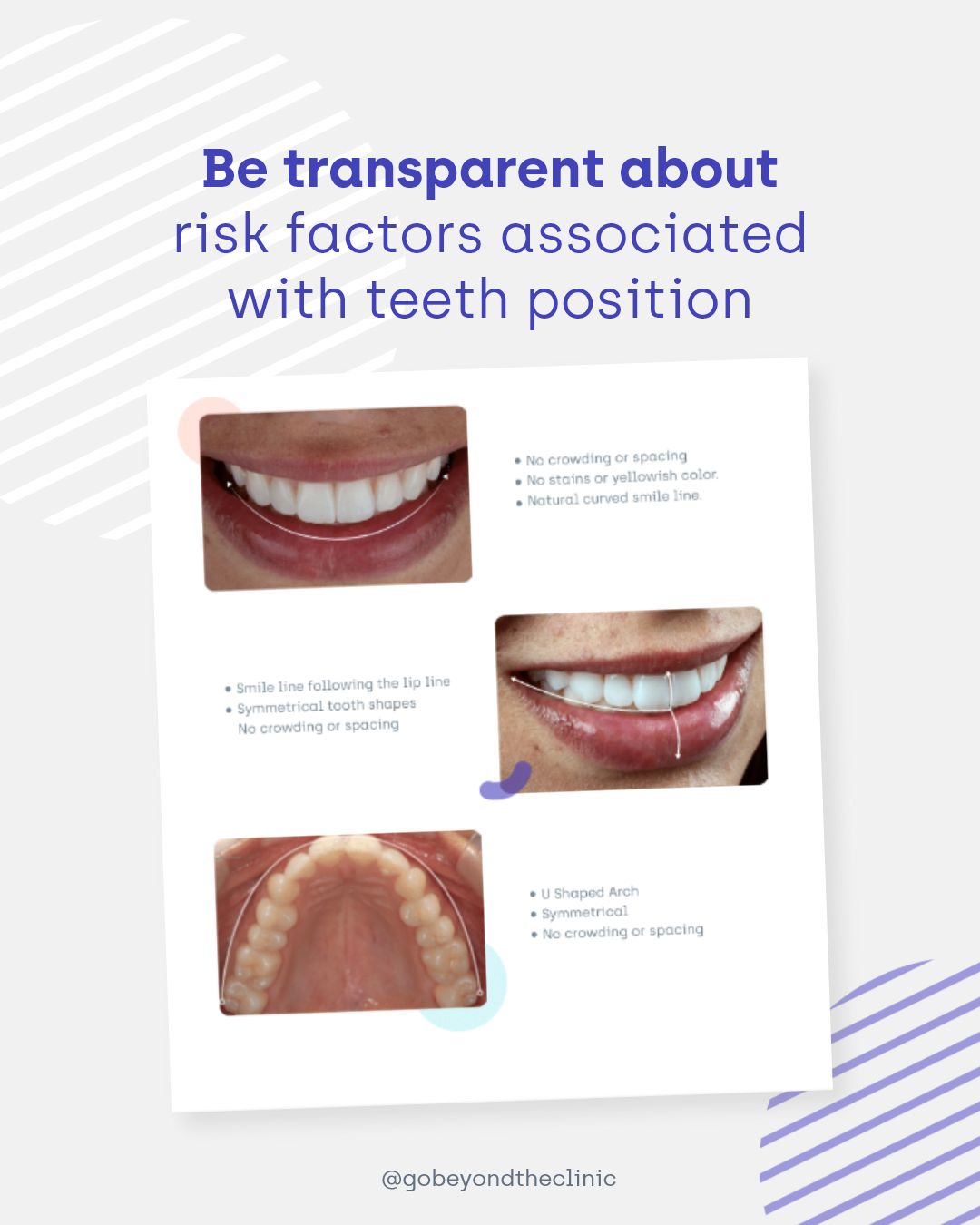 Take the time to explain any issues and offer to create a free 3D simulation of what their smile would look like after aligner treatment.
If they respond positively: help them book a 3D scan and send the results to Virtuoso to receive the 3D simulation. This includes follow ups and educational content to help the patient understand the benefits of teeth straightening.
If they opt not to go ahead with the 3D scan right away: perform a digital risk screening to provide your patient with photos of the identified risk factors. Include a call to action for them to easily book a 3D scan and, if they opt in this time, they will receive their new straighter teeth simulation.
Email enquiries or inactive patients
If your patients have not physically visited your clinic before, or haven't for a while, it can be good to engage digitally and help encourage them to become active patients. 
There are two easy ways to reconnect with these patients:
Be careful not to come across pushy or salesy, as some patients are wary of this direct interaction. It's a good idea to start off by asking questions and clearly prioritising the patient's needs. Write a meaningful message, as personalised as possible, with your clinic's latest options – show your patients that you care! Then you can strategically introduce the idea of teeth straightening with a friendly call to action link to the dental digital consultation.
This ensures more awareness for your services among patients and, in time, will increase the number of new aligner cases. A percentage of dental patients will most definitely choose to engage with you digitally, which is easily done using a software of your choice.
Received a teeth straightening plan but didn't proceed
If you have patients who did not go ahead with other teeth straightening options due to price or other factors, you can present them with a more suitable alternative.
This is also easily done digitally: send these patients an email detailing your new Virtuoso aligner system, with a clear message and call to action for a digital consultation. If they are interested, the digital consultation and suitability check gives them more information without taking up valuable chairtime.
If you want to learn more about clear aligner patients, read our blog on the 6 different types of clear aligners patients.
It all comes down to sending the right message
Dentist-patient communication in dentistry should always focus on the patient's needs and their benefits with the option you're providing! This also applies when promoting clear aligners, be it via blog, email, social media, or in person.
Remember to keep communication simple at first. Don't get lost in technicalities, as patients may feel that your primary focus has shifted from their needs to the treatment details, potentially throwing them off. Instead, focus on how treatment can improve their overall dental health, and explain how aligners are different (and better) than traditional braces. Don't forget to add visuals to your digital conversations: include videos, pictures, testimonials, etc. These supporting materials will resonate better with potential aligner patients.
With a solid hybrid strategy, your practice's clear aligner cases will consistently grow. Want to learn more? Join our 60-day programme! This 9-module course will help you identify and implement a scalable system for each of the 5 patient groups mentioned in this blog.